With its expansive floor, generous interior volume, and easily configurable design, the Ram ProMaster® is ideally suited among its competition for passenger or automobility applications. The ProMaster Passenger offers a wide range of upgrades and options, with nearly limitless seating designs aided by our proprietary interactive configuration tool. Whether your need is for a low-cost, functional shuttle, a high-quality executive transport, or an easily adaptable mobility service, the ProMaster Passenger gives you an economical, flexible, and dependable solution.
PARKING SHUTTLE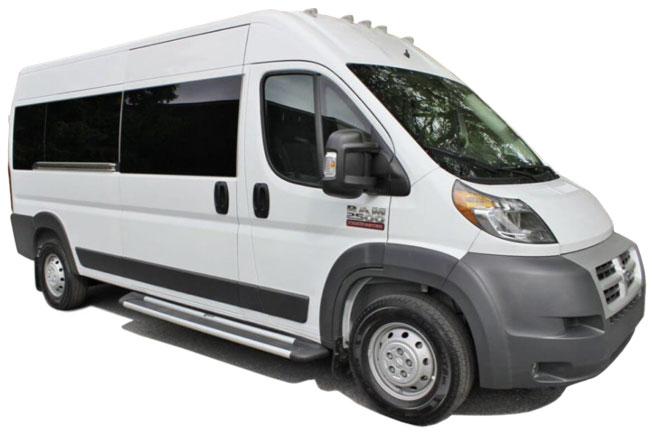 Available with medium height or full height roof and various lengths, this layout is great for small tight space parking shuttle needs. Seating can be forward facing or perimeter style and luggage can be stored in the passenger area via a luggage rack or accessible from the rear.
WHEELCHAIR ACCESSIBLE WITH REAR LIFT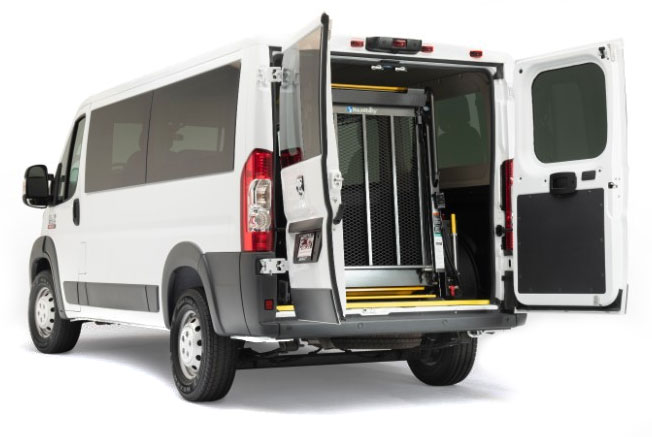 These vehicles are great for ambulette operations. For those operators that load passengers in driveways and facility parking lots primarily, the rear lift version works great. The smaller vans come with one wheelchair position and some ambulatory seats. The larger vans can fit multiple wheelchair positions and more ambulatory seats.
WHEELCHAIR ACCESSIBLE WITH SIDE LIFT
If your ambulette or rural transit service commonly loads passengers on the street, the side lift van is perfect. This vehicle comes with all the features of the rear lift unit but has the wheelchair lift on the side so wheelchair occupants don't have to go on to busy streets to enter the van.